The UHF Class A/B BDA is offered in 4-port simplex, duplex and duplex dual window models with 5 watts and 85dB of gain. Class A operation includes 16 filters per band with individual filter bandwidths from 12.5KHz to 75KHz, and wideband operation of up to 62MHz UHF. Listed to UL/CSA 2524. Compliant to UL/CSA 62368-1, UL50E Type 4.
All versions include a full-featured, easy to use web GUI, factory configurable filters, intelligent oscillation management, built-in isolation test, NFPA/UL2524 alarm capabilities, built-in battery backup circuitry, and a built-in communication link for an optional remote annunciator panel.
Westell's ProtectLink™ BDAs are an integral part of any NFPA complaint Emergency Responder Communications Enhancement System (ERCES) or private land mobile radio (LMR) system.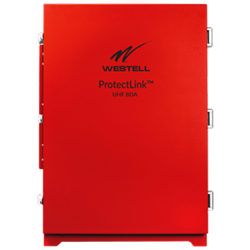 CS40-SERIES VHF:
Intelligent oscillation management and self-healing
Uplink & downlink squelch per filter
85dB gain +/-1.5 for both UL and DL
Independent gain control per filter
Listed to UL/CSA 2524
NEMA4 conduit glands include
UL/CSA 62368-1, UL50E Type 4 compliant
Supports both digital and analog modulation
Built-in battery charging and alarm circuitry
Supports P25 phase 1 & 2
Built-in annunciator communications link
Supports SNMP
3-year warranty
Product Specifications
| | |
| --- | --- |
| Frequency: | 450-512 MHz |
| Main Power Input: | 100-240 VAC, 50/60 Hz, 2.0 A |
| AC Power Consumption: | 200 Watts (Max) |
| Battery Charger Output: | 28 VDC |
| DC Power Consumption: | 150 Watts (Max) |
| DL Output Power: | 37dBm (5W) |
| UL Output Power: | 27dBm (0.5W) |
| DL Gain: | 85dB +/- 1.5dB |
| UL Gain: | 85dB +/- 1.5dB |
| # Class A Filters: | 16 |
| # Class B Filters: | 4 |
| Class A BDA Filter Bandwidths: | 12.5KHz, 25KHz, 50KHz, 75KHz |
| Class B BDA Filter Bandwidths: | 0.7MHz, 2MHz, 3.5MHz, 5MHz, 24MHz, 62MHz |
| Dimensions: (H x W x D) | 29.1" x 20" x 13.8" |
| Weight: | 79 lbs to 135 lbs, depending on filters |