PUBLIC SAFETY
First responders rely on handheld radios to communicate in emergency situations, but some buildings block those signals. Meet regulations and improve safety by making sure that fire, EMS, police, Homeland Security, and others can communicate inside and out.
K-12 SCHOOLS
Uninterrupted access to wireless services is crucial for students, ensuring they can learn without disruptions. Equally vital, teachers and administrators depend on technology to remain updated and communicate effectively in emergency situations.
HOSPITALITY
Weak connectivity can drive customers to more tech savvy competitors. Robust communications is crucial for hotels, restaurants and entertainment venues, ensuring profitability, 5 star reviews and repeat business. Reliable connectivity is guests priority and drives future visits.
OIL & GAS
The oil and gas industry runs from remote and offshore locations, where wireless coverage is always a challenge. Increase telecommunications efficacy for better safety, higher morale, and more productive teams.
FLEET
A productive supply chain requires seamless communication, and that's a challenge when you're running from coast to coast. Our solutions provide unbroken connectivity between drivers, headquarters, warehouses, and customers to ensure smooth transitions.
PARKING GARAGES
People are already on alert when walking to their car in parking garages, and that feeling intensifies if the concrete and steel structure interferes with their cell signal. Extend that signal throughout for improved safety.
SELF STORAGE FACILITIES
Multi-storage climate-controlled units provide room for storage, but aren't always designed for ample cell coverage. Our signal enhancement technologies increase the strength and reliability of existing networks for connectivity which can be crucial in emergency situations or in case of an accident while moving.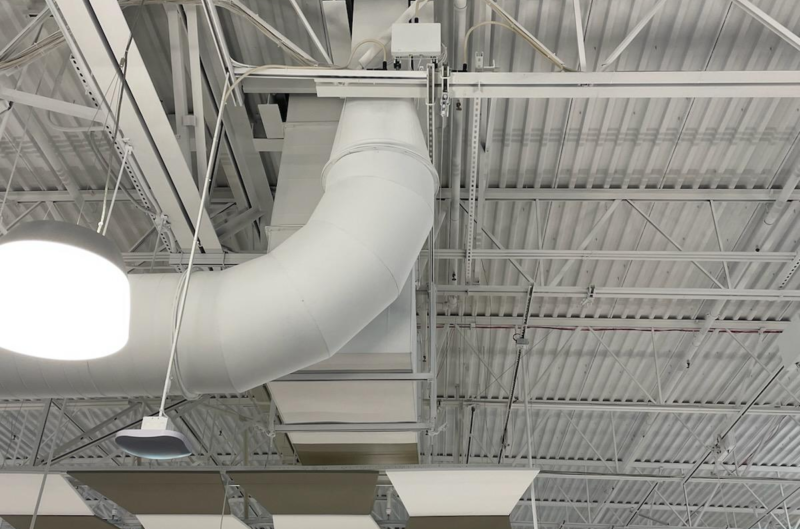 DISTRIBUTION CENTERS
Efficient network communications are vital for warehouse productivity and safety. A seamless network ensures real-time coordination, inventory management, and logistics. Strong connectivity enables automation and data analysis for productivity and responsive operations.
ENTERTAINMENT VENUES
Robust network connectivity is crucial for seamless event management in stadiums and concert venues. It enables real-time coordination, ensuring smooth operations. Our solutions address signal challenges, guaranteeing optimal connectivity for productivity and promoting public safety.
Connectivity Solutions for Every Need
Our wireless solutions and DAS offer reliable, flexible solutions for homes, businesses, large buildings, and other structures experiencing poor cell phone and data reception. Our high-performance cellular DAS deliver the greatest coverage in terms of distance covered, and they work with all major cell phone carriers and all generations of devices.
We offer a huge range of solutions, and we're here to help you find the one that's right for you. When you get in touch, we'll go through our process from the initial site survey to expert design assistance to fast and cost-effective installation. Rely on RFE Communications and our partners for tailored and reliable cell boosting solutions from start to finish.
Frequently Asked Questions
We've answered a few of the frequently asked questions we receive about cell phone boosters & other services we offer.
How does DAS work?
Most DAS have indoor and outdoor components. An outdoor antenna captures the signal from your nearest cell phone tower, even if that tower is far away and the signal is weak. Then, it amplifies the signal and transmits it inside your home, business or other structure to an indoor antenna. Then, your cell phone signal booster broadcasts that stronger signal throughout so it's accessible to all device types.
For what industries do you provide commercial-grade cell phone boosters?
We have solutions for everything from the home office to the enterprise level. We specialize in providing commercial-grade signal boosters for restaurants, apartment complexes, retail facilities, hospitals and healthcare centers, schools and universities, mining facilities, parking garages, entertainment arenas, and more. We also supply ERRC systems for public safety.
How do I know if my building provides adequate signal for first responders?
All commercial buildings are required to meet minimum requirements for first responder radio systems. If your building is new construction, has low-E glass, dense concrete walls, or metal surfaces, it might have areas of low signal strength. Basements, below-ground floors or multiple levels interfere with signal strength, and so do surrounding structures. If you're uncertain whether your building meets state and national fire code standards, get in touch
You offer so many choices when it comes to wireless coverage solutions. How do I know which one is right for me?
We provide wireless coverage solutions from the world's top manufacturers for everything from RVs to homes to offices to sports arenas. That does mean a lot of choices. We can quickly help you select what fits your needs and budget when you contact us.
Why is an Emergency Responder Radio Communication System (ERRCS) important?
An ERRCS, also known as a Public Safety DAS, serves as a crucial lifeline for first responders inside buildings during emergencies. Building owners are responsible for ensuring adequate radio coverage for first responders as mandated by local and national fire codes. ERRCS Design & Testing assists in designing and testing these systems to guarantee seamless communication from within the building to the public safety radio network.
What is signal strength testing, and why is it important?
Signal strength testing, as defined by IFC Section 510.5.3, is a crucial part of acceptance testing for buildings. It helps determine whether a building passes or fails benchmark tests for radio communication coverage. ERRCS Design & Testing conducts signal strength testing to ensure that your building's communication systems are robust and reliable in emergency situations.
Are ERRCS systems required for specific types of buildings?
Yes, buildings that are over three stories tall, exceed 50,000 square feet, or have underground parking are typically required to have an ERRCS system. This system enables in-building coverage for first responders, facilitating smooth communication between the building and the public safety radio network.
How does ERRCS Design & Testing ensure reliable communication systems?
Our team of experts designs and tests ERRCS systems to ensure they function flawlessly when needed. We take great care in the design and implementation process to guarantee that your building's emergency responder radio coverage meets the highest standards of performance and compliance.