The ComFlex BDA (Bi-directional Amplifier) is a compact, 19″ rack mountable chassis that can hold up to 6 RF modules. The unit can be fed RF through a multiple of sources including BTS (Base Station) through Comba's ACU solution, Small Cell as well as a base station's over-the-air RF signal received through a donor antenna mounted on the roof. Designed as an affordable DAS system that can be configured for venues up to 50K square feet.
Features:
Supports up to 6 bands of 700 Upper C/700 Lower ABC/800/850/1900/EAWS
Supports GSM, CDMA, WCDMA, and LTE modulation
Supports multi operator configurations and up to 3 sub-bands per band
Operation via friendly and easy OMT interface with RJ45 connection
Integrated Ethernet for remote monitoring and control
Specifications:
Dimension (in/mm)
mm
System Rack (6 Bands)
Power Unit
RF Unit
267 x 482 x 485
220 x 80 x 440
220 x 60 x 350
Weight
kg
System Rack (6 Bands)
Power Unit
Combiner Unit
RF Unit
13.2
4
4
3.8
Power Consumption
w
Power and Monitor Unit
RF Unit
15
50
Power Supply
100-240VAC (47-63Hz)
Power Up Waiting Time
(sec) approx.
(sec) approx.
85
 Operating Temperature
oC
-20 to +40
 Operating Humidity
10 to 85%
 Ingress Protection
IP30
 Enclosure Cooling
Convection or Fan
RF Connectors
4.3-10 (2600MHz – Mini-Din)
Mounting
19″ Rack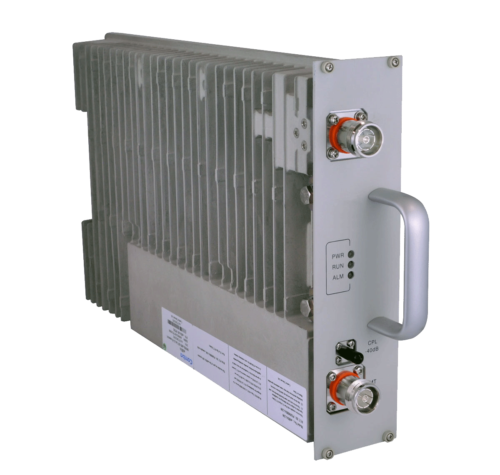 mBDA RF Modules
At the heart of the mBDA system is controlling and distributing the RF signals. The mBDA can take up to 6 RF modules to customize the wireless ecosystem. Just simply plug the unit in and make the connections to the antennas.
Features:
Avaiable in 6 bands: 700MHz Upper, 700MHz Lower, 800MHz, 850MHz, 1900MHz, and EAWS.
mBDA Combiner Module
This penta band combiner fits directly into a 19″ rack simplifying the system installation. Simply connect the RF source from the donor antenna to the combiner and then to the RF modules to create a simple, clean cellular repeater system.
Features:
Penta band combiner: 700/800/Extended PCS/AWS1&3 and WCS+2.6G.