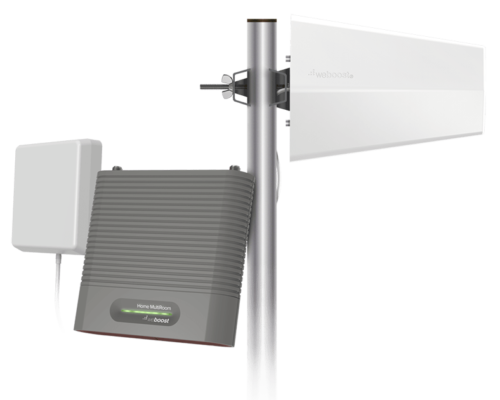 Stay connected no matter where you stay
470159
5G Compatible– weBoost is committed to the 5G movement, ensuring all our products work with 5G and support the latest in 5G technology.
25-foot telescoping pole for optimal range
Antenna designed to target cell towers
Set up and take down in 10 minutes
Most powerful booster for RVs
By targeting nearby cell towers (using an outside directional antenna mounted on a 25-foot telescoping pole), the Destination RV is ideal for use during long stays in remote areas. With the do-it-yourself, drill-free installation, setup and takedown only take about 10 minutes once the mounting brackets are secured and the cables routed.
Destination RV works on all U.S. carrier networks and is compatible with all cellular-connected phones, tablets, and devices as it simultaneously supports multiple users
The Destination RV includes a telescoping directional antenna and powerful booster so RVers experience stronger cell signal when parked anywhere. Designed to provide max coverage in large RVs during extended travel, it instantly improves talk, text, and streaming in any stationary camper or trailer.