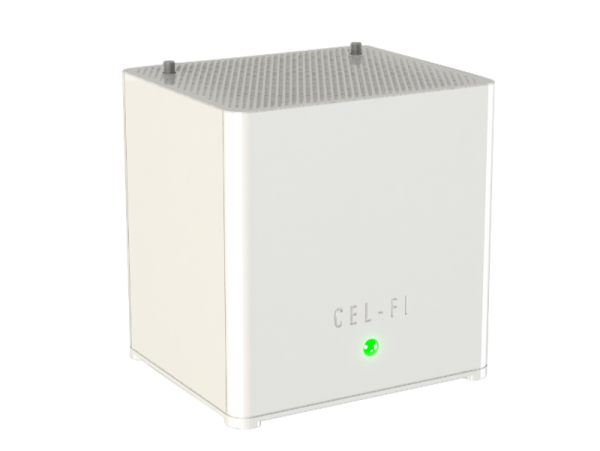 The Cel-Fi SOLO Smart Signal Booster is designed to solve cellular coverage problems for voice and data. With up to 100dB of gain, it is the most powerful carrier-grade solution available. The Cel-Fi SOLO covers up to 3,000 m² (1,500 m² in U.K.) of indoor space per system.
Configure with included donor and server antennas, or expand options with outdoor or multiple server antennas. The Cel-Fi commitment is to protect the operator's network, deliver the best cellular performance, and be the easiest solution to install.
IntelliBoost® Chipset
The Cel-Fi IntelliBoost baseband processor is the first six-core processor designed specifically to optimize the indoor transmission and reception of 3G/4G/5G wireless signals. With advanced filtering, equalization and echo-cancellation techniques, Cel-Fi's architecture delivers unprecedented in-building data rates and pervasive 3G/4G/5G connectivity.
Network Safe
Self-organizing edge intelligence ensures that Cel-Fi SOLO does not interfere with other indoor wireless products such as Wi‑Fi routers, Small Cells and Distributed Antenna Systems (DAS). High speed Automatic Gain Control ensures that Cel‑Fi SOLO is unconditionally network safe and enables more simultaneous calls and higher data speeds.
Cel-Fi WAVE
The Cel-Fi WAVE App is designed for users to activate, manage and troubleshoot the Cel-Fi SOLO. The app connects to the device via Bluetooth and is available on smartphones and tablets. It is globally trusted and built on carrier-grade security. The device data is synced to the WAVE Portal which allows for additional data modeling and reporting.