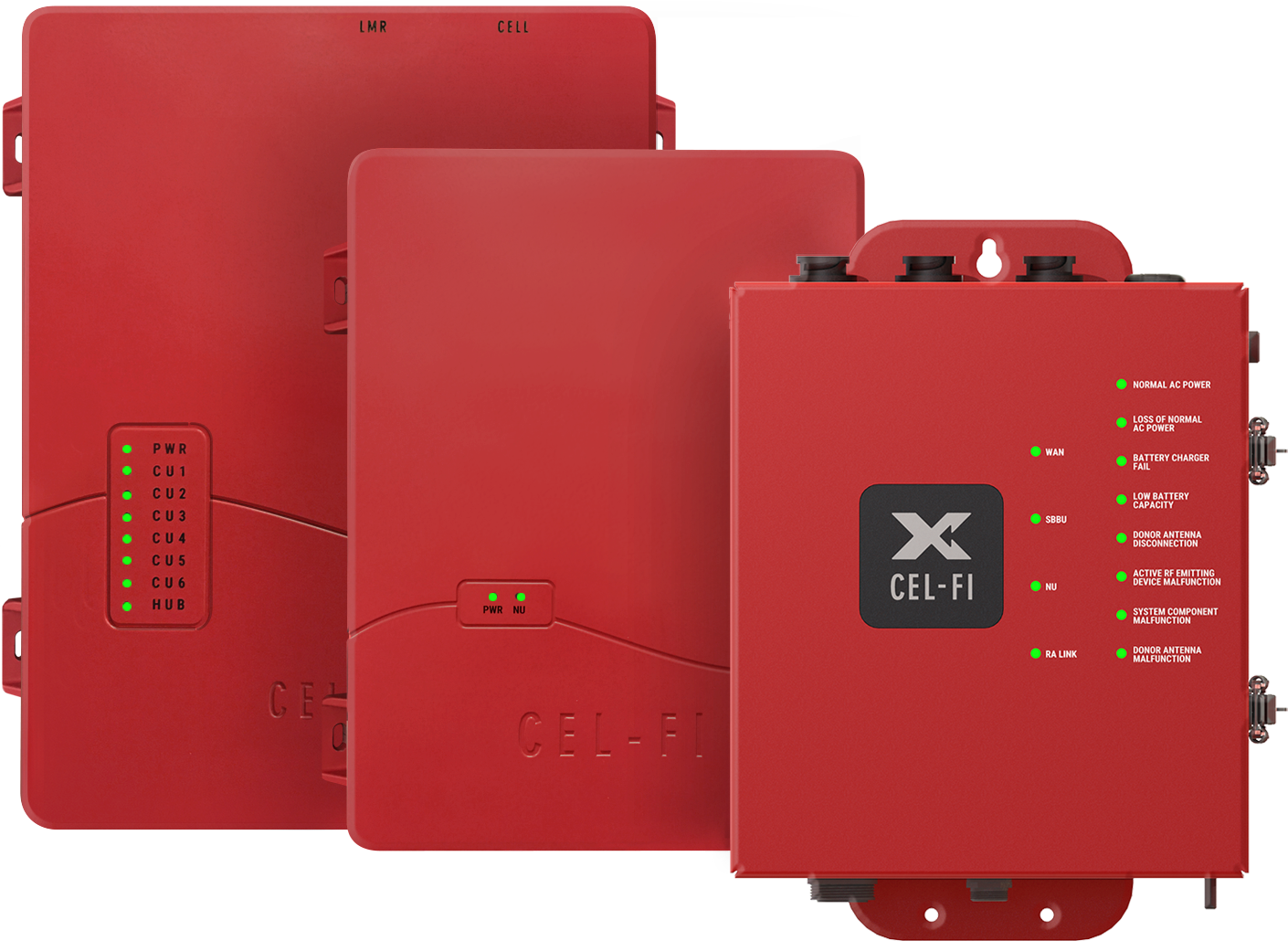 More Details
The Cel-Fi QUATRA RED Class A or Class B 700MHz/800MHz channelized Emergency Responder Communications Enhancement System (ERCES) public safety solution was designed with the needs of First Responders, Building Owners, Installers, and Authorities Having Jurisdiction (AHJs) considered. The QUATRA RED is a complete solution, each component fully-compliant with the current International Fire Code (IFC) and National Fire Protection Association (NFPA) standards.
As the public safety community evolves to include cellular LTE support, the QUATRA RED is the only solution that offers true carrier-grade channelized support for FirstNet. Both LMR and LTE aggregated at the head-end, digitally-distributed over Category cable, and retransmitted through a single serving antenna or DAS field.
QUATRA RED is the first and only solution in the market that can easily be scaled from a single donor "BDA" deployment at 1 or 2 watts to a full-blown (single donor) "Fiber DAS" up to 6 watts.
QUATRA RED is best-in-class with 56 individually configurable channels on the Class A unit and 28 channels with 100Khz and 150kHz bandwidth options on the Class B variant (700MHz and 800MHz) and 1W downlink per Coverage Unit (CU) per band. Best-in-class channelized uplink squelch and micro-processor controlled automatic gain control (AGC) per time-slot, inherited from Nextivity's carrier-grade LTE technology platform, unconditionally guarantees no interference to base stations and optimizes signal quality.
QUATRA RED includes all standard alarms, supports all NFPA and IFC-required monitoring, and connects to Nextivity's carrier-grade, SOC 2 (Type 1)-certified WAVE portal, providing best-in-class on-demand remote monitoring, not just for standard alarms but also to ensure system KPIs.
Where competing products require integrators to purchase pieces and parts from a variety of vendors to create a complete solution, the QUATRA RED solution offers everything from the head end (Network Unit or NU), remotes (Coverage Unit or CU), Battery Back-up and Monitoring (MBBU), Remote Annunciator, Emergency Power-off Switch (EPO), and an As-Built Box. All NEMA 4X rated and optimized together.
No Noise Guarantee
By monitoring environmental changes and performing automatic adjustments, Cel-Fi QUATRA RED ensures emergency personnel stay connected in any situation by delivering industry-leading performance with a no noise guarantee.
Automatic Setting of Uplink Transmitted Power
QUATRA RED simplifies the optimization of uplink (UL) gain for emergency communication systems by eliminating the need for additional equipment or guessing the calculations. The system calculates path loss automatically, allowing for different values according to network requirements and the option to setup a target range.
Automatic Calculation and Setting of Isolation & Downlink Gain
While isolation is calculated in real-time and automatically set at 20 dB per NFPA 1221, the system allows for different values according to local ordinances. DL gain is automatically adjusted to achieve the required value.
Industry-First Talk-Out Guarantee
Cel-Fi ERCES solutions' groundbreaking uplink (UL) test allows integrators to easily achieve industry-leading talk-out performance by measuring the signal traveling from the installation site to the remote tower via walkie-talkie. Using Cel-Fi COMPASS and the Cel-Fi WAVE PRO app, installers can test UL gain levels and view real-time analytics to ensure the best-possible signal-to-noise ratio.
Built-in Grid Test Functionality
With Cel-Fi WAVE PRO and Cel-Fi COMPASS, system integrators can test the downlink (DL) gain for the design planning stage and post-install performance evaluation. Export the Full Signal Report as a .csv, which includes key LMR/Operator Network parameters: Operator, RSSI, RSRP, RSRQ, Frequency, Band, PCI and more. Installers use system operation data to prepare for AHJ walk-through tests.
Built-in End-to-End Remote System Monitoring and Management
The web-based Cel-Fi WAVE Portal provides installers and authorized users remote monitoring, managing, and control of Cel-Fi ERCES systems from anywhere. In addition to easily adapting Cel-Fi systems to local fire codes, the WAVE Portal allows users to customize notification and policy parameters. The intuitive platform also offers advanced performance metrics on Cel-Fi solution's individual components, including real-time high site-to-server antenna monitoring and donor signal quality reports.