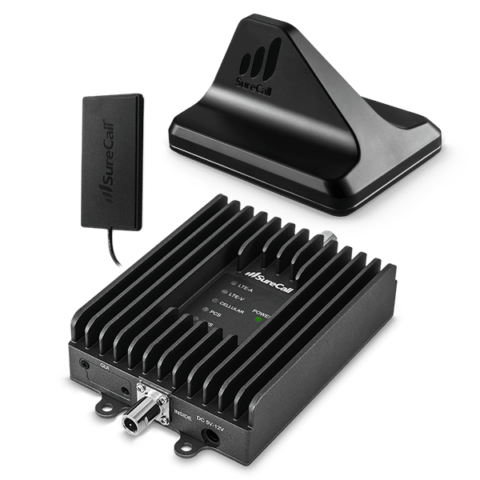 Best Performing Cell Phone Signal Booster for Vehicles
Product features include :
ERT offers fastest speeds & longest cell tower reach
Supports the largest number of simultaneous users
Works with all North American carriers
Compatible with all cellular devices, including hotspots, while extending battery life
5G Phone Compatible – Boosts voice and 4G LTE data signals on 5G phones and devices
ERT and 2XP technologies deliver best performance in the most challenging signal environments
Assembled and tested in the USA
The Fusion2Go Max features SureCall's patented Extended Range Technology™ (ERT) for maximum performance across all areas of the road. ERT amplifies cell signals outside the vehicle, bypassing cable loss and producing faster data speeds while keeping users connected farther than any other booster.
Fusion2Go Max also boasts 2XP technology to further boost the vehicle-to-tower range by increasing the uplink transmission power two-fold. With ERT and 2XP working in unison, Fusion2Go Max is the best performing all-carrier cell phone signal booster on the market.
Product Specifications
| | |
| --- | --- |
| Part Number: | SC-Fusion2GoMax |
| Uplink Frequency Range (MHz): | 698-716 / 776-787 / 824-849 / 1850-1915 / 1710-1755 (G Block Included) |
| Downlink Frequency Range (MHz): | 728-746 / 746-757 / 869-894 / 1930-1995 / 2110-2155 (G Block Included) |
| Supported Standards: | CDMA, WCDMA, GSM, EDGE, HSPA+, EVDO, LTE and all cellular standards |
| Input/Output Impedance: | 50 Ohm |
| Maximum Gain: | 50 dB (all bands) |
| Gain Adjustment: | 20 dB (Automatic) |
| Max Uplink Power: | 29.0 dBm, 1 Watt EIRP |
| Noise Figure: | ≤5 dB |
| VSWR: | ≤2.0 |
| DC Car Charger: | 6-17V |
| Exterior Antenna Cable Type / Length: | SC-302 / 10 feet |
| Interior Antenna Cable Type / Length: | RG-174 / 10 feet |
| RF Connectors: | FME Male (both ends) |
| Power Consumption: | ≤10W |
| Operation Temperature: | -4ºF to +158ºF |
| Dimensions: | 5.625″ x 4″ x 1.125″ |
| Weight: | 1.43 lbs |